How to encourage the parent voice in your school community
Thursday, 8 September 2022 by Weduc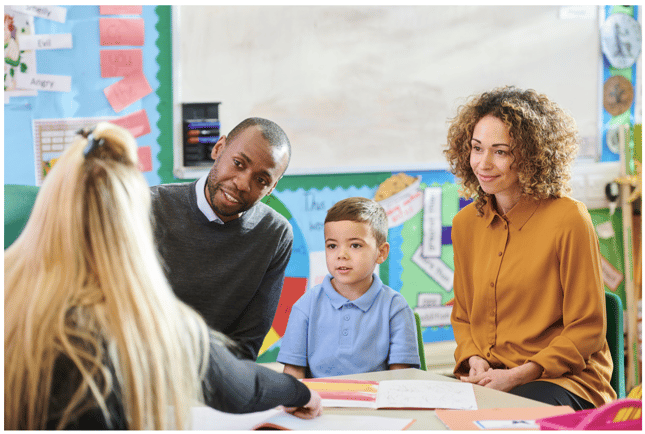 It is the beginning of the school year when existing parents are keen to have pupils back in school, and new parents are anxiously waving good luck to the newest school arrivals. The Autumn term is the perfect time to motivate new and existing parents in the school community to voice their views and opinions about school matters. Many parents will naturally engage with school life; the challenge is encouraging involvement from those more reluctant to interact. In this article, we unpick the benefits of parent voice in school decisions plus signpost 9 simple ways to engage parents in the school community.
Benefits of parent voice in school decisions
Headteachers can be wary that with increased interaction with parents comes an increased workload for teachers: this doesn't have to be the case. Intelligent communication with parents should decrease teacher time spent on communication platforms as well as improve parent engagement levels. Giving parents a louder voice in the school community offers many benefits while remaining conscious of teacher workload.
Increased academic authority at home
How many parents experience the age-old 'we don't have any homework' phrase when they try to assist with homework? Many are unaware of the homework that is set and what the homework policies of the school are. Quality home learning has maintained a high priority for schools' post-lockdowns; the need for parental access to homework tasks, student support videos and teacher feedback is now a floor standard for what a high-quality home learning provision looks like. .
Also, giving parents a say about the frequency and expectation of homework provides authority and confidence for them to question and understand reasons behind the amount of homework set and the expectation of the standard submitted.
Improved student outcomes
The Education Endowment Foundation (EEF) highlighted in several studies the positive impact increased parental engagement has on student outcomes. When parents have an active input in contributing to school policy creation, they can be more likely to support and champion their implementation. For example, if parents have participated in the consultation process about school uniforms, they may be more willing to support staff when uniform rules are enforced.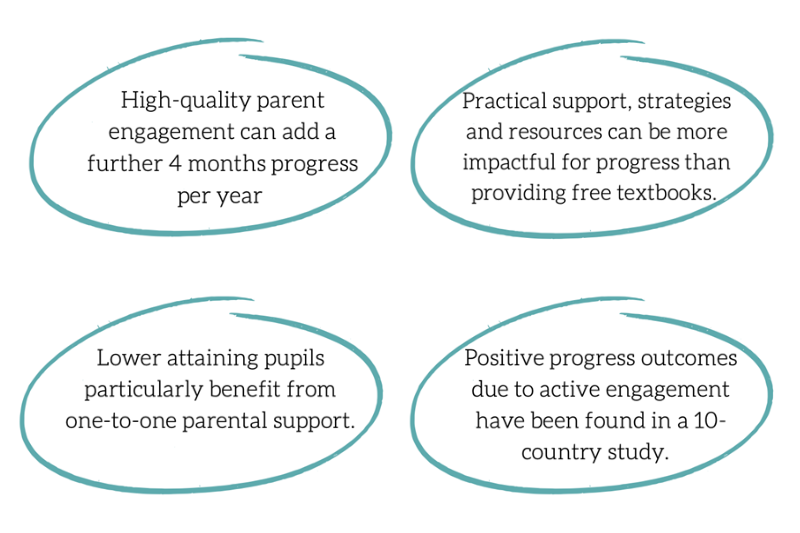 Increased active participation
Harvard Business School found that involving key stakeholders in decision-making opportunities increases the likelihood of success, as parents are key stakeholders in the school community this approach can help secure success. Taking parents' opinions on valuable home-school events, such as parent's evening, can increase the likelihood of attendance, especially with those who are frequent non-attenders. Parental contribution can be applied to other school community events such as school fairs, performances and PTA meetings.
Feeling heard and valued
The annual Parent Voice Survey found that the second most significant barrier to parental engagement with school life is not being invited to share their opinions. With a significant 84% of parents wanting to play an active role in their child's learning, there is currently a disconnect between harnessing the parent's keenness to be heard and openly inviting their participation in a time-effective method.
Diversity of culture
Encouraging parents to be involved in their child's school life and increasing interaction with the school allows for a broader representation of voice to be heard and acted upon. The representation of culture across the UK's governing body is overwhelmingly white British (93%), with limited diversity representation: 3% from the LGBTQ+ community, 7% with a disability and only 2% of chairs representing the BME community.
What is an authentic parent voice in schools?
Parent voice can often be confused as gaining consensus rather than gathering valuable input. In its weakest form, it may be conducting an annual survey to gauge parental satisfaction yet making no alterations for the next academic year in response to feedback. Authentic parent voice aims to improve on the pain points parents experience, understanding the needs of their school community. The Senior Leadership Team (SLT) must set out valuable parental engagement opportunities in the school's engagement strategy to achieve an authentic parental voice. Naturally, some key operational and strategic decisions must be made without parental contribution; identifying those areas that will benefit from parent input is important for acting on the feedback collected. The Parent Voice Survey found that only 54% of parents felt their child's school acted following the feedback collected, leaving parents feeling frustrated. Ofsted uses Parent View when conducting an inspection; it has been found that those schools who regularly encourage parental contribution gain a higher, and often more positive, return of parent surveys during an inspection.
9 simple ways to engage parents in the school community
There are several ways schools can effectively encourage parent voice in the school community, many involving gathering information and making timely alterations to policies. Research has found that the largest concern for parent engagement is during the post-primary phase, with a larger percentage of parents experiencing a lower sense of involvement in secondary schools compared to primary.
Engage potential parent-Governors
The National Governing Association's (NGA) annual survey highlights the limited representation of school governors, with 93% representing the white British community and retirees being the largest age bracket making up governing boards. Schools would benefit from explaining the time commitment needed to participate in the governing body's discussions alongside highlighting the benefits of joining and the positive impact it can bring to the school's community. Try creating a parent-governor vacancy post for your communication newsfeed, sharing the expectations, pupil benefit and value added to the school community.
Parental contribution in policy creation
Some policies require minimal parental input due to being governed by statutory requirements, but not all. Several policies impact parents' daily school interactions as pain points; gain information from parents about the areas they find most challenging and invite a working group or governor team to discuss possible, practical solutions to trial. Communicate clearly to parents that collecting feedback will not immediately or necessarily alter practices and that chosen amendments must be implemented practically. Use your communication platform to efficiently share decisions and outcomes so parents feel they are included in the whole process.
Parents help to choose the menus
It has been found that 55.2% of parents didn't feel they were given enough information about the meal choices their children were offered, with a high percentage wanting to be involved in the meal choice options. A simple survey option for parent engagement can be to ask parents about menu favourites and timetables.
Development of parent-informed uniform policy
Ensuring the school's non-negotiables are followed, parents can be given a voice about school uniforms. This may include having a polo shirt or shirt without the school logo but within the school's colours to reduce the cost of buying a new uniform. Some schools' PTA has found success by gauging parental interest in organising a second-hand clothing drive to create a supportive community within the school. If the outward-facing school uniform cannot be altered, gather parental opinions on the PE kit or specific bag use in the uniform and dress code policy.
Extra-curricular club availability
Parental approval of extra-curricular club options is at an all-time low of 61% (considering the limitations of social distancing restrictions in the past two academic years). Parents know their children's interests best; by tapping into a knowledgeable source schools can generate new ideas for lunchtime and after-school clubs, helping to engage pupils with school life.
Reduce homework barriers for parents
Homework is one of the most significant pain points parents experience; with a limited understanding of the strategies used during teaching, parents can face considerable accessibility barriers to helping their child with set homework. There are many ways schools can effectively support parents with home learning; gathering information about challenges when completing homework from both pupils and parents can be helpful information to help make home learning as effective as possible.
Involve parents in curriculum development
When asked, over 97% of parents expressed their support for including cooking in their child's curriculum experience to support adult life skills and an understanding of a healthy, balanced diet. Gaining parental opinions on curriculum content, particularly PSHE, can allow for additional cultural links between the parents and the school. For example, a parent may notice in the curriculum offer their child will learn about their chosen religion and offer to answer questions on their faith to gain real-life insight.
Simple and effective social media interaction
Allowing two-way communication encourages parents to interact with the school via social media platforms, simple, time-saving features can protect teachers' time by posting the communication across all platforms in one click. Weduc's protected social channel newsfeed promotes the safe celebration of pupils' achievements and learning whilst encouraging two-way communication.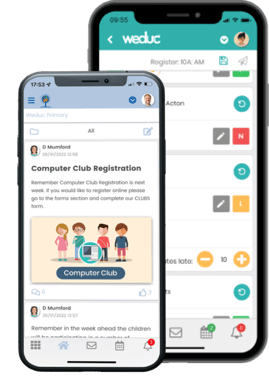 Parent voice is essential to a school's engagement strategy, tailoring communication and contribution to fit the school community's needs. Find out more about how Weduc can help you to unify your school communication by calling us on 01509 221 349 or clicking here for one of our team to get in touch with you.
You might also like...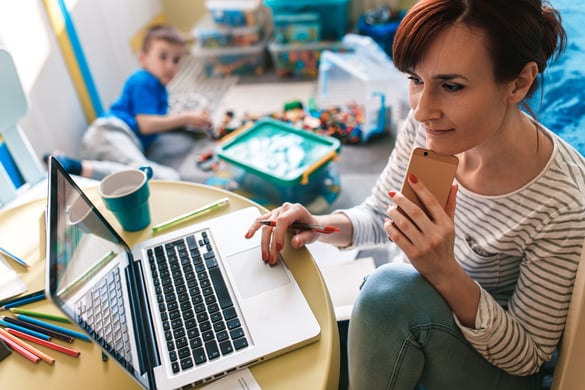 Thursday, 23 February 2023 by Weduc
Reaching parents: The challenges schools face in our multi-channel age
A multi-channel approach to school communications opens many doors for greater parental engagement and collaboration. Providing parents with as many ways as possible to connect with their child's school.