Reach More Parents Insights
Boost Your Knowledge
What information should your school's website include?
Friday, 4 November 2022 by Weduc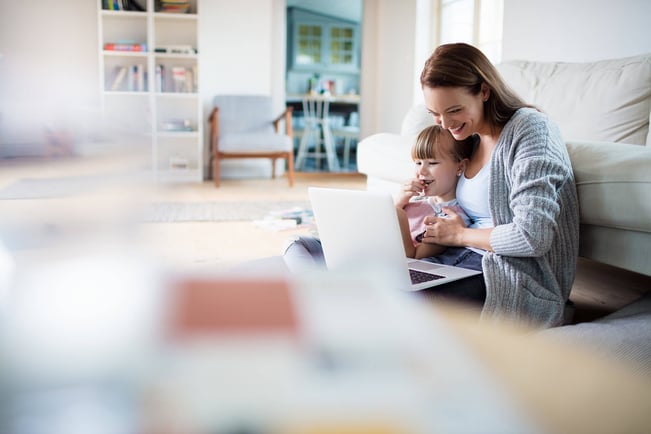 Why a school needs a website
We all know the impact mass digitalisation has had on schools over the last few years thanks, mostly, to the pandemic.

However, what about those areas that were already digital? Namely, school websites.

Where once these were seen as places to house basic information such as term dates, school uniform policies and snow day announcements, schools have been slowly waking up to the need to make more of their front page.

After all, a school's website is often the first impression that prospective parents and other stakeholders will get of a school. So if the website is underused, lacking energy or recent updates, and says nothing about the school's brand, mission, vision or values, it's probably not working hard enough.

The pandemic also made many schools realise that regular web updates aren't just a nice-to-have, but an essential component in their communication strategy. In 2020, staff, parents, and students all needed a hub of up-to-the-minute information to keep them updated during lockdowns – and since then, they've grown used to feeling more connected to the daily goings on at school.

So aside from keeping your school's community connected, and helping to advertise it to prospective parents and stakeholders, what are the other benefits of making more of your school's website?

Well, before we get into those, it's important to make sure you're getting the basics right first...


Ofsted and DfE website requirements for schools
Before your school starts making any changes to its website, it's vital to consider regulations from Ofsted and the Department for Education (DfE) on what your website should contain.

So, according to these sources: What do schools need to publish on their website? And what policies should be on a school website?
Your school's name
Your school's postal address
Your school's telephone number
The name of the member of staff who deals with queries from parents and other members of the public
The name and contact details of your special educational needs co-ordinator (SENCO), unless you're a special school
Admissions arrangements
Your school's uniform policy
Ofsted reports
Recent exam results
Performance measures
Your school's opening hours
The school curriculum
Remote education provision information
Your school's behaviour policy
Pupil premium and recovery premium information
Details of how your school complies with the public sector equality duty
SEND information
Careers programme information
Your school's complaints procedure
Governors' information and duties
Your school's financial information
Charging and remissions policies
The school's values and ethos


What should a school website include for parents, students, and staff
Once you've got the essentials out the way, you can focus on what information should be on a school website that can give prospective parents, pupils, and staff a unique insight into life at your school. For example, by letting them know who the people are behind the school's name, and what the school's vision is for education in a post-Covid reality.
So, what needs to be on a school website for parents, pupils, and staff?
Information on staff
The days of schools being faceless entities are long gone. Now, parents want to know more about the people that their children will be interacting with five days a week. What led them to study and then teach their subjects? How long have they worked with the school? Why do they like working in education?

Not only is this impactful for potential parents and their children but it's hugely important for other prospective staff as well, who want to be able to make a quick, informed judgement about whether they'd fit in. You know what they say – first impressions really do matter.


An informative 'About Us' page
A page about your school, with a message from the Head Teacher, is vital for making a good impression and delivering a message about school values. Here, you can state your school's belief in education, your intention to deliver education to the highest standards, and what you expect from your pupils.

To this end, a school's 'About Us' page shouldn't be boring and outdated. It should be relevant, engaging, and let prospective parents know you care deeply about their children's wellbeing and academic results.


A school news and updates page
If the last few years have taught schools anything, it's that providing a centralised place for parents, pupils, and staff to find relevant information and on-the-go updates is extremely important. For starters, this means that in the event of any crises in the future, everyone knows where to go to find information.

But there can be additional benefits for schools that connect their website with other EdTech solutions like a school app, which can enable them to update all their communication channels, including social media, at once in real time.

Just remember that unlike your app, your school website is in the public domain and accessible to everyone. So make sure that anything posted takes security and privacy considerations into account, as well as signposting which students, parents and carers, and other stakeholders each message is relevant to.


Careers page
With education experiencing something of a recruitment crisis at the moment, the way a school approaches recruitment can make all the difference. Essentially, your school's website needs to act as an advertisement, and a careers page is the first place to start with that.

And no, we don't just mean a page that includes a list of vacancies and a number or email address to contact. We mean a page that sells the experience of working for your school, including benefits, and a hint at what the school culture is like.


A virtual tour
Digitalisation has made many things possible, and one of those things is virtual tours. Of course, you can include pictures of your school to give parents and pupils looking an idea of the learning environment, but a virtual tour that they can take in their own time can provide them with a much clearer idea of what the school building(s) are like.

This is especially important for children with disabilities, as it can provide them with a more rounded knowledge of what their access requirements will be on the school campus and how the school can support them with those.


Online school prospectus
A digital prospectus isn't just a way to make a printed prospectus accessible to everyone, it's a way to make your school's prospectus interactive. Think soundbites, podcasts, videos, and live links to relevant pages.

Not only can this provide a more rounded view of what it's like to study at your school, but it can enable you to deliver relevant information in a more engaging way that communicates more effectively with young people who are digital natives.

A digital prospectus can also enable you to make changes as and when, rather than requiring an entirely new prospectus whenever there are significant changes to be made.


Must have features to make your school's website stand out
Integration with school calendar
Integrate your school website with your school calendar to make sure everyone can see important dates quickly and easily without having to manually update your school website every time something changes.

Automatic updates across all channels
Want to deliver one message across your website and social media channels all in one swoop? Use a system that allows you to do just that, saving valuable time and making sure everyone gets the news at the same time.

Good SEO practices
Give your school website the shot it needs to reach the people it needs to, with a well-designed website that incorporates good SEO practices. Better still, a good school website provider will take care of all this for you.

Integration with all EdTech solutions
Make sure all your solutions sync up seamlessly with intuitive technology that means you won't have to manually change information across multiple channels ever again. Changes to the curriculum, new parents evening dates, or want to highlight school achievements? Sorted, all in one place.


A school website as unique as your school
At Weduc, we know every school is different. In fact, the best school websites ensure that your school's ethos and brand come across in an instant - and your achievements and approach are hard to ignore.

Weduc websites for schools provide simple tools so you can:
Publish news posts about student activities and successes.
Highlight your school curriculum, with dedicated subject pages.
Easily and quickly share your triumphs to public-facing social media accounts.
Ensure your school's website is Ofsted and DfE compliant.
Enable greater communication and collaboration.
Plus, they're uniquely branded to your school. So, whether it's a primary school or secondary school website, or a website for your multi-academy trust or independent school, get in touch with us to find out more today.

Click here to book an informal chat at a time that suits you. Alternatively, drop us a line via our enquiry form, or give us a call on 01509 221 349.